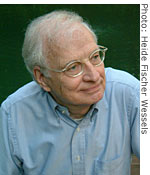 James Craig is responsible for the creation of this Web site as a means of enhancing the study of typography. Mr. Craig, a well-known author of books on graphic design, was born in Montreal, Canada. He studied fine arts in Montreal and Paris before immigrating to the United States. He received his BFA from The Cooper Union and his MFA from Yale University. Now semi-retired, Mr. Craig was the Design Director for Watson-Guptill Publications and is a member of the New York Art Directors Club, Association Typographique Internationale (ATypI), Type Directors Club (TDC), Typophiles, and a past member of the American Institute of Graphic Arts (AIGA). At present he teaches typography and design at The Cooper Union and lectures widely.
Designingwithtype.com é um site dedicado à arte e à apreciação da tipografia. Ele oferece recurso tipográfico singular para estudantes, educadores e profissionais, apresentando o talento pelo mundo.
Criado originalmente por James Craig como um suplemento para seu livro Designing with Type: A Basic Course in Typography especificamente
para seus estudantes da Cooper Union, o site cresceu, passando a incluir contribuições apresentadas por colegas educadores e designers, e com isso envolver um público maior.
Projetos apresenta exercícios tipográficos selecionados do Designing with Type, juntamente com diversos projetos apresentados por alguns dos principais designers do mundo.
Tipos mostra uma seleção de tipos favoritos, fornecida pelos colaboradores dos projetos, assim como projetos acadêmicos de tipos, type foundries, e downloads gratuitos.
Recursos traz resenhas dos livros de James Craig e apresenta um amplo panorama dos mais influentes livros, revistas, organizações, sites e as principais escolas de design do mundo.
Fórum Aberto recebe comentários e oferece artigos, citações, linhas do tempo, e demais itens do interesse de designers gráficos e educadores.
Equipe de Design apresenta os principais responsáveis por este site.